When you think of life, think first about the blessings you have. Don't focus on misfortunes, for they are but a faint shadow - Catherine Pulsifer
Wednesday, February 23, 2011
Tuesday, February 15, 2011
Thursday, February 3, 2011
come to think of it...i haven't really got a particular song for little missy...i have several songs, but my favorite is the '
itty bitty baby girl
' (by kelly willard) from the 'bless my little girl' cd...even now, she would still ask me to sing it to her even though she's all grown up and wouldn't fit my lap anymore!
her dada's favorite song for her is the 'butterfly kisses'...he would lovingly sing it to her and she would listen intently and fall asleep while listening to it...so, i'd like to share with you her version of it...never mind the lyrics...hehe! (i was haggling with her because she doesn't want to sing at first and so she sang several songs until she finally gave in to singing the song). enjoy!
join us in mommy moments!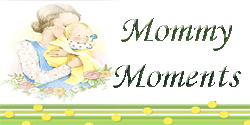 i choose to be happy!